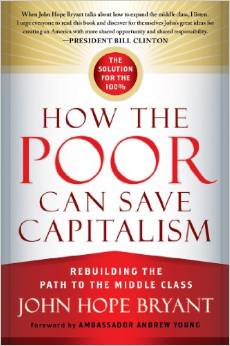 For nearly 50 years, America has been at war against poverty. Actually, the battle has been raging for much longer than that, I was merely thinking back to Lyndon Johnson's bold Great Society initiative, which was launched in 1964, mainly to address issues of racism and systemic inequality.
Actually, much of the social safety net was assembled 30 years prior, during the administration of Franklin Delano Roosevelt, and the enactment of New Deal programs like the Social Security Act, the Works Progress Administration (WPA), and a host of others that were a direct response to the crushing economic collapse caused by the Great Depression. Historians refer to Roosevelt's focus being on the "3 Rs": Relief for the unemployed and poor, Recovery of the economy to normal levels, and Reform of the financial and banking system in order to prevent a repeat of the depression.
This might be an over-simplification, but most of the efforts of conservatives over the past 30 years, since the days of Reagan, have been in rolling back programs enacted by Johnson, and even Roosevelt, with the onus for being poor being directed at those forced to live in poverty.
I have written about C-SPAN's Book TV before on this blog. Weekends on C-SPAN are taken up with 48 hours of the best in nonfiction books and the authors that write them.
My television viewing in the summer is mainly given over to baseball and reruns of The Waltons most evenings, so I don't watch much Book TV during the summer months. That's why it was rather odd that I happened to tune in just as John Hope Bryant was readying to discuss his latest book, How the Poor Can Save Capitalism: Rebuilding The Path To The Middle Class. A provocative title for a book to be sure!
In our binary state of debate in America, where everything is either black, or white, it's always difficult to present new ideas, especially if they don't fall within the narrow parameters of what passes for political debate at the moment. Maine's politics are a microcosm of this, with our current governor's cynical attempts to curry favor with the far right base of his party by demonizing poor people.
In fact, on Sunday, hours before I happened to catch Bryant talking about his groundbreaking book, I read the Maine Sunday Telegram's particularly galling (in my opinion) profile of Mr. LePage. The profile, written by staff writer Matt Byrne, was yet another take on the hackneyed Horatio Alger myth and the classic "rags to riches" tale that all of us have been treated to now for more than four years relative to LePage. Personally, I'm not buying the narrative and its many inconsistencies.
What bothers me the most about this rehash of LePage's early years, is the lack of any pushback coming from Maine's journalistic community—such as, asking the governor why it was ok for him to receive significant support in the form of housing, tuition, and mentoring from a host of well-connected community members, and yet, his plan for those in a similar place is simply, "pull yourself up by your own bootstraps," basically. It smacks of hypocrisy at its worst, and shoddy reporting at the very least. LePage's regular haranguing of Maine's poor for being poor does nothing to move the ball in addressing the issue. In fact, if you follow our governor and his advisers, they're always short on details related to implementation.
The issue facing the poor in the 21st century is economic immobility. The poor—a category that includes many classified as "working poor"—is a significant cross-section of our consumer economy. What Bryant is proposing and has been since founding Operation HOPE, Inc. shortly after the Rodney King riots, is that current arguments about poverty are unproductive. He believes that we need a broader "reimagining of what it means to be poor." This is often missed in a mere quantitative assessment.
Because Bryant is able to expand the definition of poverty to what he calls our "teetering class"—people that are nearly poor, almost poor, could be poor, was poor, really poor, etc.—basically, a large swath of America living paycheck to paycheck, and it extends across traditional class, race, and economic lines, he moves the debate from demonizing people to showing that this is the group that has the potential to turn America around.
Many in the middle class (and I'd include myself with this group) are not too far removed from being poor. As jobs disappear and the nature of work changes, the old ways and rules of success have shifted, and many no longer have a road map. The poor, Bryant states, "never got the memo."
One of the most powerful parts of the book for me, was Bryant's delineation of how being in the "teetering class" exacts an emotional and psychological toll. First, it robs people of self-esteem and confidence. Bryant says that people that don't feel good about themselves are "screwed in America." If you don't believe in yourself, no one else will. Second, poverty robs people of positive role models, and usually puts them in a "crappy environment" in the community where they are forced to live. Bryant makes his third point that, "poverty produces a lack of opportunity in education, educational quality, and educational attainment; a lack of relationship wealth, or 'who you know'; and a lack of access to capital and knowledge, financial or otherwise."
Bryant's point is that a person can possibly weather two of these situations and still survive and possibly rise above it. However, people experiencing all three are dead in the water—basically, a slim to none chance of succeeding.
Governor LePage didn't have to overcome any of these three, because people stepped in and mitigated what was a negative situation for him. Yet, he doesn't offer any solutions to others, except to offer his angry pronouncements of "I did it and so can you," which is basically a lie.
It's unlikely that hard-core right-wingers will ever be able to get their narrow ideological minds around any of Bryant's prescriptions. However, conservatives with compassion, who are able to recognize that trading one form of subsistence for another—a welfare check for a crappy, dead-end minimum wage job working in a convenience store—does nothing to address that a consumer economy won't ever pull out the doldrums if most Americans don't have any disposable income. Better to work with progressives and liberals to "increase levels of aspiration, hope, engagement, well-being," and following from that, comes increased economic energy, with increased gross domestic product to follow.
Bryant's book isn't a long or difficult read—it's a mere 176 pages and can be read in a few nights. It's one that should be read by anyone that wants to move beyond demonizing poor people and blaming them, and moving the debate forward, into positive territory, where hope and aspiration are the drivers, not kicking people when they're down.
I'm urging anyone who wants to move beyond ideological gridlock to invest time in reading Bryant's book, and then, get busy providing hope, mentoring, and opportunities, as Bryant espouses.