For six years now, I've traveled to Boston to spend an October Saturday in Copley Square. The occasion has always been centered on books, writers, and publishers. There's also a "streak thing" going on, too.
I attended the inaugural Boston Book Festival in 2009, and each subsequent one. I always meet up with my son, Mark, and we spend the day listening to authors, perusing book tables, talking about writing (along with sports and politics), and scouting out the best offerings of the myriad of publishers who set up shop in one of the Boston's celebrated public squares, a patch of real estate hearkening back to the city's storied past.
The last few years, I've decided to leave the car behind in Portland, trading it in for a backpack and bus ticket. Concord Trailways the carrier of the MegaBus service making round trip travel to Boston possible for $10!! I couldn't even park for that.
Mark and I meet up at South Station (he comes up from Providence where he lives, via commuter rail), walk across town to Copley. It's always an enjoyable walk as we talk about what's been going on in our lives, while passing through Boston's Chinatown, and along the Boston Commons, as we make our way up Boylston.
In the past, we've always tried to cram too many events into too short a period. This year, I wanted to hear Steve Almond. Mark was down with that, too. We missed out on Nicholas Carr's talk on technology, which was another one I'd circled on the #BBF2014 event schedule when it came out.
Almond talked about his latest book, Against Football: A Reluctant Manifesto. He also discussed publishing (albeit, briefly), and writers getting paid for their writing. Right on, brother!! Why should writers write for free?
As writers go, Almond's never boring to hear speak, and as in times past, eminently quotable, with a few zingers like these:
"The publisher called it a 'manifesto' to sell fucking books." (on the title of the new book)

"Football is bigger than religion in America." (on the popularity of the NFL)

"The Football Industrial Complex exists because we (the fans, of whom Almond admits he is one) gave them (the NFL) that power." (Almond's own complicity in the FIC)

"Our allegiances are the truest expressions of ourselves." (know thyself)

Mark and I were then off for a great lunch at The Salty Pig, an eatery that was a combination of Frontier and Nosh, back in Maine. Loved that the SP also had a Czech-style pilsner on tap, Notch Session Pils, from Ipswich craft brewer, Notch Brewing.
While on the topic of beer and New England, I picked up a copy of Lauren Clark's new book, Crafty Bastards: Beer In New England from the Mayflower To Modern Day, about beer in New England, especially the craft variety. Readers of the JBE know of my interest in Moxie (of course!), but also craft beer, lagers, and the history of brewing. I've already begun reading Clark's book and it's wonderful!
Union Park Press, an indie small press based in the Granite State, is the publisher of Clark's book about beer. They had a table, which is where I picked up my copy, along with another book about New England (Boston) and drinking, aptly titled, Drinking Boston: A History of the City and its Spirits. The author, Stephanie Schorow was at the Union Park table, signing copies. Schorow was personable and warm, and we had a nice chat and then I was off to meet up with my book shopping son, Mark.
We had time for one more event and I suggested the "Another Country" panel, featuring Maine's own award-winning author, Lily King, along with Joseph O'Neil, and Rupert Thomson. I just happened to notice this panel in passing. I'd actually packed King's book, Euphoria, for my bus ride. This was mainly to find out what all the hoopla surrounding this book was about. I read most of it on the way down. Contrary to just about every other review out there (and of course, going against the Kirkus grain), I found the novel tedious, but I plowed through it, finishing it at South Station waiting for my 7:15 bus.
Sycophants (like the pew full of female readers next to me at the Church of the Covenant, where the panel was held) will most likely accuse me of being a "bitter man" and a nobody as a writer compared to King. That's too simple a default, I'm afraid. Her characters were too shallow, all anthropologists (the book is based upon the life of Margaret Mead), and weren't anyone I cared to invest time and interest in. For me when I choose to read fiction, I prefer dense and complex characters, not wooden, overly predictable cutouts. If I don't like the primary cast, I can't get into the book.
Another point I'd like to make as an aside—Maine's A-list writing community seems to be a bit too incestuous for my tastes—as evidenced by this excerpt, written by yet another writer from away landing in Portland's smaller pond, and making a bigger splash than they deserve (IMHO). A frame of reference is often dependent on whether you're on the inside, viewing it from the cool kids table in high school, or not. I think I just channeled a little Steve Almond right there.
The panel King was on was facilitated by the New Yorker's book critic, James Woods. It was a tedious hour I'll never get back, as none of the three writers had much insight about how they came to their topics, or craft. In fact, it was the equivalent of the "being visited by a muse" school of writing.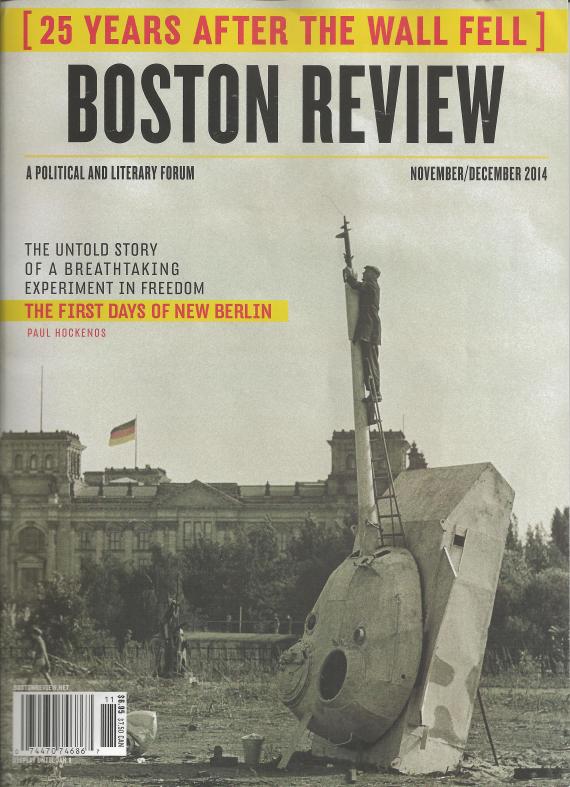 Perhaps the surprise discovery of the day was the copy of Boston Review that Mark picked up at their table and handed me waiting for the King/Woods affair. Having it allowed me to get through our final BBF2014 event, and provided some spectacular reading with coffee this morning. In fact, there are five nonfiction titles touched on in the latest issue that I'm adding to my ever-growing list of books to read.
Boston Review seems to me to be a publication that's slanted in the vein of The Baffler, which was also on display, at the MIT Press table.
Another festival's been put away and is now in the books. Happy to have one of this magnitude so close and accessible.