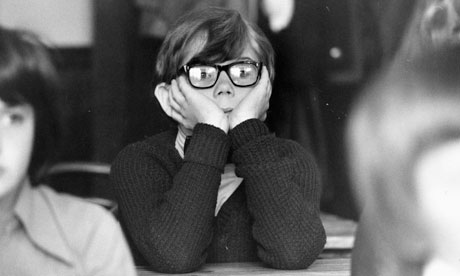 I'm glad that I went to school when I did. My public school teachers may have been part of a nefarious plot to turn me into a minor cog in some impersonal corporate machine. Or they might have just been putting in their time until retirement, weathering each successive storm of boomer births. Something along the way foiled their intent, however.
My own K-12 experience, like many that occurred during the 1970s, introduced the topic of research right around sixth grade. Our classroom teacher marched us single file down to the library, and the expectation was that we'd use the library's resources to compile data, and put it together in report form. We used actual books, encyclopedias primarily. The requirement was that we were to catalog our information using index cards. Then, our teacher reviewed our work before we were ever allowed to write our first sentence. No mere googling for us!
Why is this so important? Because plugging terms into Google is lazy. Being lazy means developing bad habits, and this leads to crappy outcomes. 
Having spent the past eight years working with employers on talent acquisition, they've regularly bent my ear with horror stories about the sorry state of most new hires. Many of these are bright students, graduating from college programs and not having a clue about gathering data, or producing functional technical documents. That doesn't even take into account the inability to communicate clearly via professional channels, like email. Email might be old school for a generation that prefers texting, but in the world of business professionals, email still matters.
I am all about being able to utilize social media effectively. I actually believe that using social media effectively requires having a foundation that's based in a more formal understanding of communication. Call me old-fashioned, but it concerns me that companies are really struggling to find graduates that possess many of what I'd call basic, or foundational skills, especially when it comes to sharing information.
Ideological purists of a particular political stripe think all of this can be remedied by sending all our kids to charter schools. I'm not opposed to charter schools, but I don't think they are the panacea for our workforce ills.
Actually, what began as a conversation has devolved into a bitch session; business blames education, and I can't say that education isn't culpable to some degree. However, I don't think public education, or even charter schools for that matter, exist merely to serve as training academies for corporate America.
Taking a step further, public education in much of the country is broken beyond repair. Inner city schools warehouse students at best, and at their worst, have cultures so toxic that they can't be reformed. In many parts of the country, the choice has now come down to building prisons because so many students are failing in urban schools, and incarceration, rather than college, is their next step on life's continuum.
What I believe the business community is going to have to do is invest and make major commitments to in-house remedial programming; writing classes, basic math programming, and other trainings that provide new employees with the skills each company requires. Otherwise, the demographic data isn't promising regarding replacing aging baby boomers, although many of them will probably work much longer than ever before. This factor opens up other issues about an aging workforce, disabilities related to aging, and a vastly different and diverse workforce than we've ever had.
Those companies with leaders who recognize this and make the necessary investments in training will be in the vanguard and at a competitive advantage over those failing to innovate and take a proactive approach.