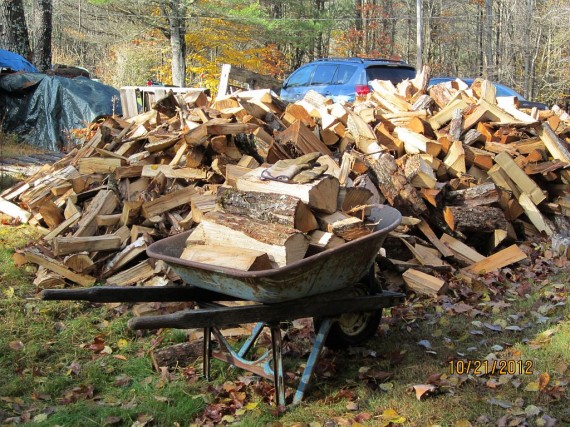 My grandfather never went to the gym in his life. When he'd see some high school age runner passing his house, training for their upcoming sport season, or maybe just out for a fitness run, he'd say, "they don't have enough work to do." For my grandfather, work never had an off-season.
Despite Opa's views on work and sports, my uncles all played sports and several of them, including my Uncle Bob, were quite gifted. My Uncle Rhinie played for the vaunted semi-pro Worumbo Indians and in the Army, he was talented enough to play at a level where he caught Rex Barney and was a teammate of former National League batting champ, Harry Walker during WWII.
Wood and the cutting, splitting, and burning of it has been a part of my life for as long as I can remember. I spent time in the woods working alongside my Opa, my father, and my uncle, beginning at a very young age.
Opa had big ole' wood boiler in his basement. During my fundamentalist exile, whenever I'd hear some preacher read and reference the  biblical story of Shadrach, Meschach, and Abednego, trapped in Nebuchadnezzar's fiery furnace,  I'd imagine the three of them trapped in Opa's wood burner that heated the house where he and my Nana lived on the corner of Pleasant and Rand. It's where my Uncle Bob lives now.
The year was 1973 (I was 11) and there was an

oil embargo

, so our house on Woodland Avenue got its first wood stove. My mother, dubbed "Saint Helen of Immaculata" by my sister, mainly because of her need to be neat, and her skill in maintaining  a spotless house, allowed my father to install a tiny tin stove in the basement, as the price of oil ticked upward and tensions escalated in the Middle East.
Burning wood provides warmth and equivalent BTUs that are hard to match. Even during some of the coldest days of January, our house is warm enough to walk around in shorts and a t-shirt. The labor associated with burning wood returns perks later on.
A lot of people frown on burning wood, partly because of the work; old timers tell you that you'll handle wood multiple times. Even if you buy your wood (rather than cut it yourself) already cut and split, you end up handling it three or four times before it performs its warming magic and burns inside your wood stove.
When we built our house back in 1989, having a wood stove was a given. I ordered a Napoleon, firebrick-lined, and it's been standing guard and performing service like a silent sentry ever since, providing comfort and a homey ambiance from its perch on our living room hearth. It also means our house is dusty, there are wood scraps, pine needles  and other associated vestiges from the wood sitting in the wood box bordering the hearth. Mary and I wouldn't have it any other way.
Today was wood stacking day, or Stackfest 2012. The two of us hauled and stacked wood all morning. We got a bit more than half of our wood for the winter stacked and we'll finish the task next weekend. There were years that we pushed through and  did all our stacking in one day and could barely move the following day, so we know better to complete our task over two weekends, rather than one.

Mary stacks and I handle wheelbarrow duties. She's better (and more exact) with the subtleties and the mathematical exactness required to keep a pile square and standing tall all winter and into the spring. I make a hundred or more trips, wheeling load after load and dumping it from my wheelbarrow. Fill, wheel, dump, stack, fill, wheel, dump, stack…it goes on like this until your back is barking and your legs ache, but the rhythm is comforting and grounds you. I also use the time for thinking and generating ideas.
When the snow flies and the wind is howling, stacking will be but a memory. On the other hand, Mary and I will be basking in wood-fired comfort, less dependent on whether oil goes up dramatically, or not.