When I got into publishing, it was mainly a method to get my first book to market.  I started out knowing very little. At the time, indie publishing (what most call, "self-publishing") wasn't being embraced by the likes of Amazon and others, because it hadn't yet become a lucrative income stream for them. But self-published books have been around since books first rolled off Gutenberg's press.
What once was the domain of legacy presses and authors who couldn't get a book deal, now finds writers like Jamie McGuire landing on the shelves of major retailers and books like Andy Weir's The Martian (originally self-published) are being made into Hollywood movies.
I started RiverVision Press in 2005 because a regional book about town team baseball didn't have great appeal to major publishers. The small press publishers that I knew—while liking the book—didn't quite know how to market it.
History vindicates that decision. When Towns Had Teams, a book detailing the heyday of town team and semi-pro baseball in Maine just after WWII, garnered an IPPY award from Independent Publisher in 2006, the winner of their Best Regional Nonfiction title for the Northeast. With that one, I was on my way. Since then, I've published two more titles of my own; a book about Moxie in 2008 (now out-of-print after two press runs) and a book of essays two years ago. In-between, Down East Books (now owned by Rowman & Littlefield) offered me a contract to do a Moxie book for them.
Having learned the tools and techniques of publishing with a hands-on approach, I realized that there was a growing movement of people wanting to publish book their own books. I timed it right time and have been able to capitalize on that demand. Actually, that's not quite what's happened.
I was asked by a local adult ed director where I was teaching a writing class, if I wanted to put together a Saturday program on how to publish a book. My Publishing Boot Camp became a popular Saturday destination each March for a couple of years. It allowed me to cobble together all my knowledge learned first-hand (along with what not to do), and offer a road map and service to others looking to do the right thing, but not sure how to start the process, or proceed to the finish line.
I first met Linda Andrews during one of my narrative nonfiction classes. She was a nurse and a writer who had begun working on a book of her own. Like many writers who start down the road to writing a book, the process isn't always linear. Linda had lost her father and then her husband over a two-week stretch in 2010. When she first showed up at class, she was still going through the grief process and things were very raw.
As I got to know Linda, I could see that she had a subject that was special and marketable. It also helped that she had writing talent.
Interestingly, while Linda participated in one of my boot camps, she'd later tell me that she was "overwhelmed" by all the information provided.
Over about two years, Linda and I corresponded by email and we'd occasionally grab breakfast to discuss her progress. She'd bring her list of questions and I'd offer answers and suggestions. She's then go off until she had another question, or ran into another obstacle.
Of all the students I've had over the course of four years serving as a writing instructor, Linda was one of my most determined. It was clear that what she set her mind to, she eventually made happen. That's probably one of the key elements for anyone willing to go the indie route as a writer and publisher. You've got to be willing to stick it out.
I'm happy to report that Linda's very first book, Please Bring Soup To Comfort Me While I Grieve is now a reality. The book was released last week, and I think it's going to do very well.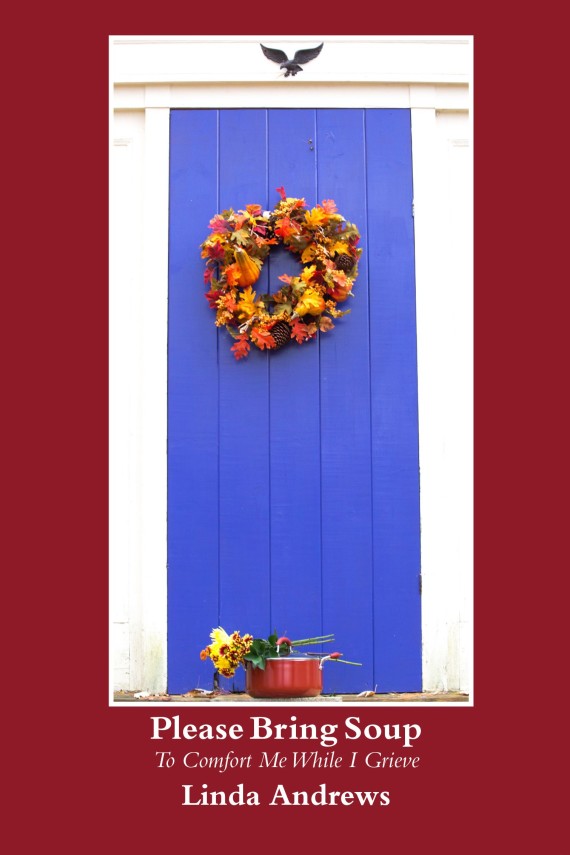 As I wrote in my blurb for the book, Linda's book, Please Bring Soup is a necessary book, one that should be shared with friends and family who are grieving; it will help the rest of us better acknowledge (not ignore) and validate the reality of the process.
For disclosure purposes, Linda hired me to serve as her book coach over the summer. While she was very close to the finish line with the book, she was still struggling to get over the last few hurdles. To her credit, she recognized that she needed someone to coach her through the final paces. As a result, she has a book that's professionally-produced, and readers will be the beneficiaries from her willingness to do things the right way. I'm also serving as her publicist during the launch phase of the book. I'm honored to have Linda as a client, as her book is one that's easy to promote and endorse. You'll be able to catch her being interviewed about the book very soon.
Please check out Linda's website. There's an excerpt from the book posted there, also.
I may have served as Linda's book coach, but I like to call Linda my mentor when it comes to learning how to respond to grief and loss. She's the expert and her book is one that's essential reading if you want to know how to respond to people you care about that are going through the process of loss and grief.
Numerous times over the past few months, I find myself considering something Linda's told me, or I read reviewing her manuscript. It's helped me to become more aware and attuned to what's going on with people around me.
Here's a comment from a reader who pre-ordered the book:
I received my book today and could not put it down. All I can say is WOW…Linda Andrews shared so much of her daily if not hourly thoughts, grief and pain she went through. She has to be the strongest person I know!! How she took the time to be there for others when she was hurting and always showering everyone with her love and understanding.
Have your box of tissues ready for both sadness and happiness.
It's always a cause for celebration when your student becomes the teacher.