The past few days were spent making like a tourist. Mary and I finally managed to coordinate our calendars, and by leveraging the holiday on Monday, and adding a couple of days following America's paean to workers, we pieced together four days/three nights of what was our summer vacation, 2014.
American workers take fewer vacation days than anyone else with an advanced economy in the world because we're the only place where workers aren't guaranteed paid vacation time. Nearly ¼ of all U.S. workers get no paid holidays or vacations at all—I would fall into that category, residing in free agent nation. Another survey indicates that Americans who accrue paid time off only take half of it on average.
Back in the spring, Miss Mary located a sweet coastal resort via one of the many deal-of-the-day websites back in the spring. I remember her saying, "I've found a good deal and I am going to book us at the Newagen Seaside Inn for Labor Day. "Are you okay with that?" she asked me. For me, these things are always too far in advance for me to visualize, but I always nod my head and say "yes."
In Maine, tourists always descend on our state at the start of summer like … (well, you supply the metaphor). Whatever one you choose to go with, we all know that "vacationland" ends up serving as a sublet by the natives for June, July, August, and parts of September, so we can pay the mortgage through the leaner part of the year, until yet another tourist season rolls around. Apparently someone is taking their vacations, and they're all coming to Maine for them.
I like to recommend Sanford Phippen's book, Kitchen Boy, as a read for anyone interested in understanding Maine's colonial economic state. While the book was published in 1996, it's centered in Phippen's own experiences 30 years prior, as he ably recounts what it was like being a summer servant for the well-heeled that frequent places like Mount Desert Island, because they are so "quaint."
Boothbay Harbor is another one of Maine's varied peninsula's jutting southward into the Atlantic. A short ten-mile diversion from busy Route 1 deposits drivers into the heart of one of Maine's prettiest coastal villages. I like Boothbay, or "the Harbor" as it's known to many. I loved our time out on Southport Island even more.
We made a trip back into Boothbay Harbor on Tuesday, when the coast was socked in by fog. We had some craft beer, Mary did some shopping—I even posted Tuesday's blog post from the "porch" at Boothbay Harbor Memorial Library. We also had a phenomenal Italian dinner at Port of Italy Tuesday night, when we made the short, 6-mile return trip for a late dinner.
Southport Island was a splendid respite for a few days from the harried running to-and-fro of moneymaking and work, the best freakin' few days away from the grind we've both had in awhile. What made it even more special is that the time was spent primarily along a lesser-traveled section of the state's rocky coastline.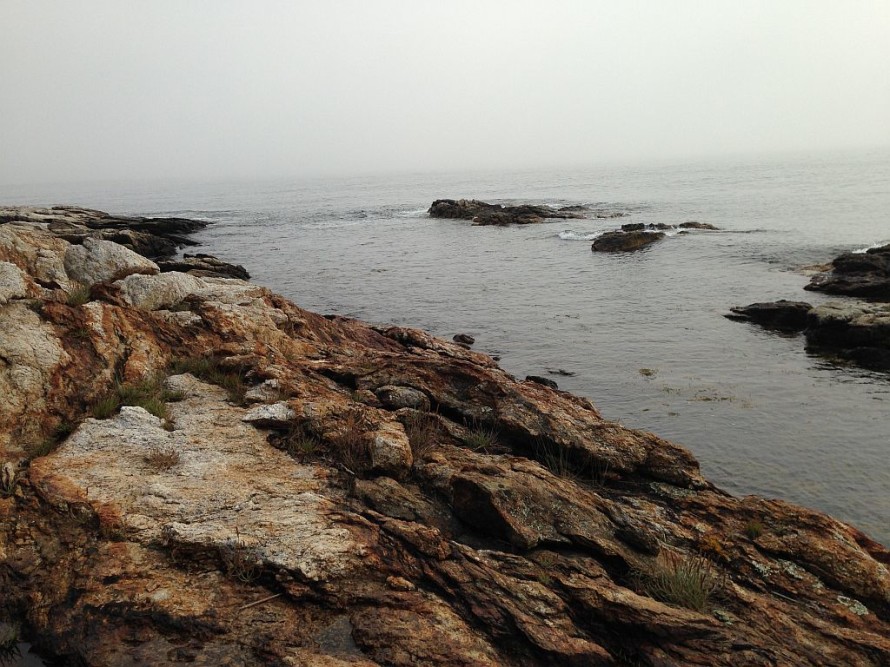 Early morning sunrises, swimming in the cove, and climbing over the same rocks that Rachel Carson fell in love with was magical and a time we won't soon forget. We even found time for a few lobster rolls, too.
Until billionaires buy up the rest of Maine's coastline, I'd like to find a way to make a trip every summer to Southport, and this little tourist colony at Newagen, for some annual rest and relaxation.